Swimming Lessons
Check back with us in Spring for details on Summer 2020 lessons
Learn a skill that will keep you safe and fit for life!
However old your children are, swimming can be great fun and even a life-saving activity.  Almaden Swim and Racquet Swim Lessons are designed to make your child water safe and swim-team ready. With our unique lesson structure and skilled staff, our tailored swim lessons will increase your child's swimming skills and increase their confidence in the water. Our flexible lesson options and times will fit into your busy schedule.
2019 Private Swim Lessons
Private Swim Lessons, download the registration form here:
ASRC will offer private swim lessons starting June 10th, we will offer private lessons Monday – Thursday from Noon – 3:30 p.m. To schedule a private lesson, complete the attached registration form and mail, deliver to 6604 Northridge Drive San Jose, CA 95120, or email to swimlessons@almadensrc.org
Private Lesson Pricing: Members $25/per 25 minute class, Non-members $35/per 25 minute class.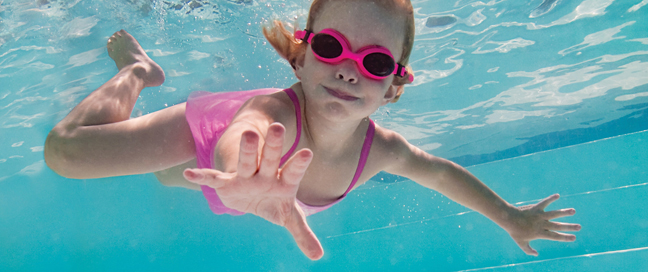 2019 Group Swim Lessons
Group Swim Lessons, download the registration form here:
Group swim lessons begin June 10th. Our instructor to student ratio is 4:1. Group lessons are held Monday – Thursday for two week sessions. We have morning (10:00 a.m. – 11:30p.m. start time) and afternoon (4:00 – 6:30 p.m. start time) lessons. Lessons are 25 minuets each.
Group Lesson Sessions & Pricing
| | | | |
| --- | --- | --- | --- |
| Session | Dates | Members | Non-members |
| 1 | June 10-June 20 | $110 | $160 |
| 2 | June 24-July 3 | $95 | $140 |
| 3 | July 9-July 19 | $110 | $160 |
| 4 | July 23-August 2 | $110 | $160 |
| 5 | August 6-August 9 | $55 | $80 |
Level 1-Starfish
Retrieve Underwater Objects
Back and Front Float with Support
Knows Basic Pool Rules
Blow Bubbles from Nose and Mouth
Rhythmic Bobbing
Safe Pool Entries and Exits
Flutter Kick Front and Back (Assisted)
Floating
Rhythmic Breathing
Level 2-Clown Fish
Elementary Backstroke
Change Position/Level Off
Deep (5ft) water Exploration
Flutter Kick Front and Back (unassisted)
Know Safe Swimming Rules
Side Breathing
Seated Dive
Turning over Front to Back
Back and Front Floats without Support
Basics of Treadding
Level 3-Otter
Backstroke
Dolphin Kick (assisted)
Freestyle with Side Breathing
Deep water entry with recovery
Elementary Back Stroke Kick
Push off Wall and Glide, Front and Back
Retrieve Underwater Objects
Safe Diving Rules
Treading Water, 30 seconds
Dive From Kneeling and Compact Positions
Introduce Sculling
Level 4- Penguins
Backstroke
Introduce Turns
Sculling
Introduce Butterfly
Dolphin Kick (unassisted)
Streamlines and Proper Push-Offs
Freestyle with Side Breathing
Tread Water For 1 Minuets
Backstroke stay on back (12.5 yards)
Stride and standing dives
Open Turns
Level 5-Dolphins
Flip turns
Breaststroke (12.5 yards)
Diving Safely in Top 4ft of Water
Diving Board Standing Dive
Butterfly (12.5 Yards)
Backstroke - Stroke Count from Flags
Freestyle with Side Breathing (50 yards)
Backstroke (25 yards)
Push-Offs With Breakouts
Tread Water for 2 Minutes
Level 6-Whales
Backstroke (50 yards)
Breaststroke (25 yards)
Freestyle (50 yards with turns)
Butterfly (25 yards)
Backstroke Flip Turnes
Push-Offs with Breakouts from turns
Sculling (25 yards)
Tread Water For 3 Minuets
*Call 408-268-8015 or email swimlessons@almadensrc.org for more information.